OPERATION GORDIE GOOSE
DECEMBER 2018
Ken and Heidi Bayne of Saginaw, Michigan, contacted me in early September with concerns about a young goose whose left wing had been completely ripped off. They frequented the park and pond with their Yorkie and they noticed that this goose, who was barely three or four months old, had a large blood patch on his left side and his wing had been completely ripped off. He could have been attacked by a coyote or dog or he might have got entangled in a double string barrier fence that the township had put up around the pond to prevent the geese from getting on to the path or grass.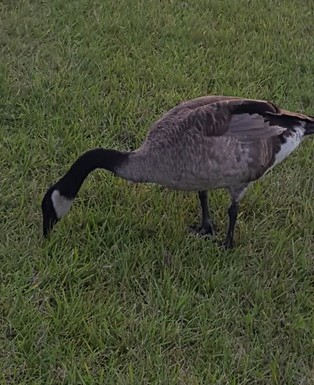 They named the little goose Gordie.
They were at the pond the night his parents and siblings took flight and left him behind. They took off from the water and this little guy ran along the bank and chased them the length of the lake jumping in the air trying to get off the ground with his one wing. It was really, really sad.
So they befriended him by feeding him daily and just being there talking to him. He knew their dog, their vehicle and their voices and he would get excited when they pulled in, making a bee line to greet them, eat and follow them around the park.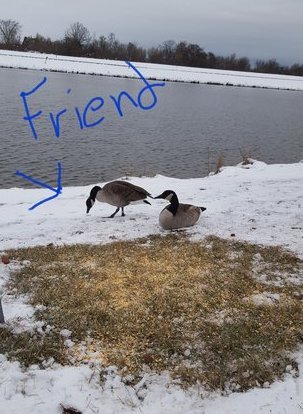 Gordie was a loner with the exception of the past four or five weeks. He had a friend with a band on his right leg staying with him. They were inseparable and even though his friend could fly he stayed by Gordie's side.
In early December, the lake froze over and his safe haven disappeared so it was time to catch him and deliver him to his new home. It was hard to see him go but they were thankful to have the opportunity to be able to help this little fellow.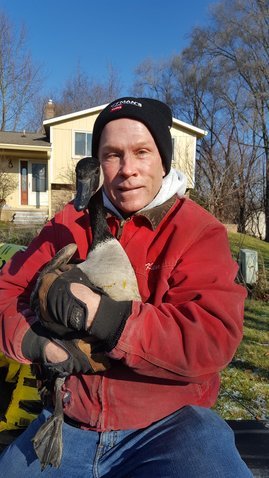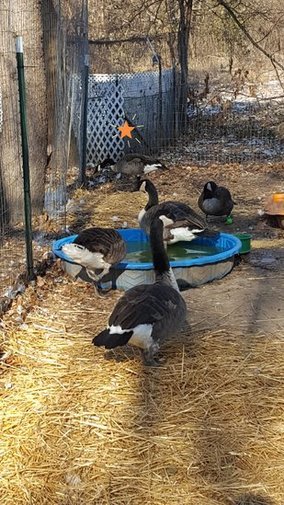 Thanks to Ken, Heidi and Karen (who runs the sanctuary), Gordie is doing very well. He was incredibly fortunate to have been befriended by caring folks like Ken and Heidi and then, to have a kind, caring and loving person take care of him. Despite his misfortunes, he is a very lucky goose indeed.
It always warms my heart to get to know kind and caring folks like Ken, Heidi and Karen who would do everything they possibly can to rescue an injured creature and give him a chance to live out his life in a safe sanctuary.